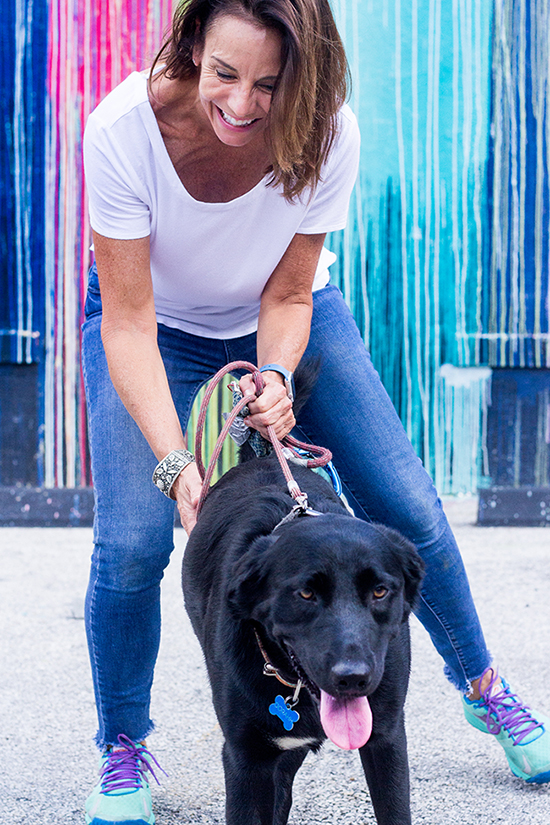 Meet Mikey
Hi! I 'm Mikey, thanks for stopping by. This is my love, Dorahh.
In so many ways this IS in fact my first rodeo….. I was in medical sales for many years and for a very long time I was thrilled to be in that world until one day it was no longer the right place for me. After a long hiatus of trying to figure out my next chapter and seeking something that made my heart sing, I realized I had an opportunity to combine my love of dogs with my sales background. While in Hawaii on a trip with my dad, I bought a canvas dog collar that looked great for about 2 weeks. That got me thinking about what a great looking, durable collar would look like……and the idea for 1stRodeo began. (Old dog, new tricks).
I have gone to the dogs as they say and boy is my heart singing now. I hope you will love these collars as much as I do.
Handcrafted from quality saddle leather.
1stRodeo dog collars are handcrafted from quality saddle leather by artisans in Coahuila, Mexico. The leather used is the same high quality leather used for horse tack and saddles. All colored leather is drum dyed. The hardware is stainless steel. The tooling and background paint are handcrafted.
We can offer custom dog collars with a range of different tooling patterns and some personalization options for your dog. Please contact us if you are interested in this option and we can design the perfect collar.
Dogs make us happy and we want to do our part to make dogs happy. 1stRodeo is proud to be involved with Ani-meals (a division of Meals on Wheels) to deliver pet food to pet owners in need. The organization helps citizens keep their pets healthy by providing food and some veterinary services. As 1stRodeo collars are introduced in new communities we will host parties with a purpose and seek to partner with rescue and dog charities to conduct pet food drives or drives for other items needed. Please contact us if you would like information on partnering at an upcoming event.